Hi guys! I had the day off today, so I thought I'd catch up on some reading. I'm about halfway through Princess Ben, and it's pretty good! It's about this girl who's a princess (durr), but it's her uncle who's a king, so she lives a normal life outside of the castle. So when he (along with her mother and father and army general) are murdered while on a trip away, she all of a sudden has to take charge, find out what happened to her parents, and save her kingdom! All while she's about 15 years old. Here's a link about it.


I've always been interested in these kind of stories... fantasy would you call it?

On the other hand, today I wore a green and orange Roxy shirt that's more autumn themed, but I didn't care since I was just going to see Indiana Jones with the boyf. In that regard, the movie was okay... nothing short of fantasic (in the literal sense). Lots of things were too hard to believe, but then again I've never seen any other of the Indy movies.

So, to match my shirt, I thought I'd make a quick look with these colors... take a looksie!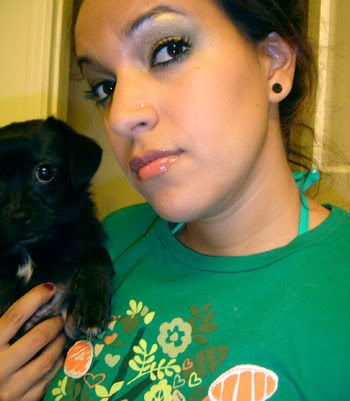 Eyes: NYX Ultra Pearl pigment in Yellow Gold in the inner lid
NYX Ultra Pearl pigment in Fanta in the middle lid
NYX eyeshadow in Wild Fire on the outer lid
NYX Ultra Pearl pigment in Nude Pearl on brow bone.


Face: Mac Fix Powder in NC30

Lips: Mary Kate & Ashley Gloss in Peachy Keen

Oh, and that's my puppy Cheedles, well, she's about 1 year old now. So I guess puppy no more!

Thanks for stopping by! Have a good night! ♥